Describe the urbanization and suburbanization trends in your country.
https://www.wilsoncenter.org/event/more-concrete-jungle-urbanization-japan
One of the most densely urbanized nations in the world
There is very little urban space—75 percent of streets in Tokyo are less than 12 feet wide—so Japanese cities are extremely dense.
Ronald K. Vogel of the University of Louisville stated that greater Tokyo is composed of 23 special wards, which contain 8 million of Tokyo's overall population of 12 million.
While attempting to decentralize in certain areas, global city Tokyo nonetheless argues that it should be the primary area for investment, the rationale being that as Tokyo goes, so goes the nation. This, of course, creates problems for other cities in Japan, most notably Osaka and the Kanto region.
Theodore J. Gilman of Harvard University presented a case study of a city illustrating that, despite Japan's having the second largest economy in the world, some cities simply fail. The city in question is Omuta, located in Kyushu, Japan's westernmost island. Omuta had been a company town, and its main product was coal. After Japan switched its energy policy from coal to oil, Omuta started to decline
http://www.statista.com/statistics/270086/urbanization-in-japan/
http://www.newgeography.com/content/002923-the-evolving-urban-form-tokyo
Suburban Areas: Tokyo also has the largest suburban population of any metropolitan region in the world. Approximately 26.7 million, or 75 percent of the Tokyo region's 35.4 million population lives in suburban areas. This is the largest expanse of suburbanization in the world. The suburban population increase since 1950 exceeds that of New York, Los Angeles, and Paris combined (Note 2).
Book: Japan in the 21st Century: Environment, Economy, and Society
Inner city housing is expensive
2. Describe any long term planning surrounding these trends and any problems that have arisen (perhaps due to a lack of planning).
http://pilaje18.weebly.com/urban-problems-solutions-and-innovations.html
After two oil crises, the diversification of power-generating sources has taken place, and the dependence upon oil has been considerably reduced.  The nationwide electricity supply network has also been developed so as to cope with and adjust to excess demand at the marginal level through inter-regional supply arrangements.
One of the biggest issues for the local authorities in the metropolis is waste, both industrial waste and household waste, and in particular non-combustible waste, not because the technology is not available to process such waste, but rather because of problems in the geographical location of processing facilities.
The solution to Japan's problems, perhaps, is to decentralize everything from Tokyo by providing job opportunities elsewhere.  Nobody chooses to live in a rabbit hutch or crowd with hundreds of other people on a packed subway train.  The only reason people choose to move to Tokyo because of job opportunities available in the nation's capital unavailable elsewhere.
http://www.jstor.org/stable/40112283?seq=1#page_scan_tab_contents
While western nation design discourage high-rise residential blocks, no objections in Japan
Another problem is disagreement; some view decentralization as a strength, others as a weakness
3. Describe the existing mass transit and highway infrastructure as well as proposed major projects.
http://www.newgeography.com/content/002923-the-evolving-urban-form-tokyo
Tokyo is a transit oriented metropolis, with by far the highest transit usage in the world. In 2007, 65 percent of trips within a 50 mile radius were by mass transit. Overall transit usage is (passenger miles or kilometers) in the Tokyo region is approximately double that of all combined usage in the United States and nearly 10 times that of Paris, according to the Millennium Cities Data base. At the same time, one-way work trip travel times are reported to be the highest in the high income world, at a median of 45.9 minutes (Note 4) for main earners. Work trip travel times from residences are the shortest from the most remote residential locations (60-70 kilometers from the core) at a median of 26 minutes and at 29 minutes from residences between 50 and 60 kilometers from the core. Median travel times are 36 minutes one way within 10 kilometers of the core (Figure 3). The longest commutes are from residences located between 10 and 50 kilometers from the core (6 to 31 miles), which peak at 54.5 minutes each way between 20 and 30 kilometers (12 and 18 kilometers) from the core.
http://www.japantimes.co.jp/opinion/2013/01/14/commentary/japan-commentary/our-menacing-infrastructure/
Article concerning the dangers of decaying expressways
http://www.loc.gov/law/help/infrastructure-funding/japan.php
There were four main financial sources for national expressway construction: "toll revenues, highway bonds, loans from banks, and government subsidies and social capital fund[s]."[18]  However, highway public corporations accumulated huge debts over the years.  Those debts and other problems lead to the privatization of these public corporations in the early 2000s.[19]  According to experts who analyzed the JH's debt, the two main costs that the JH incurred—the highway construction costs and the corporation's management costs—were financed by three sources: highway bonds, loans from banks, and government investments.  The principal and interest for such debts were repaid by toll revenues and government subsidies.  Because the JH constructed more highways than its repaying ability could cover, its debts become larger.[20]
5. Describe the current state of solid waste disposal, level of recycling programs and waste production rates (per capita, total etc).
https://waste-management-world.com/a/japans-waste-management-situation
Therefore the statistics for Japan often look different to MSW statistics in other countries, although the non-municipally collected recyclables are often added back in to provide a more comprehensive picture of recycling activities. Therefore, in 2008 for Japan as a whole, with a population of 127 million, more than double that of the UK, France or Italy, for example, there were 2.34 million tonnes of recyclables collected by municipalities, 4.51 million reclaimed by intermediate treatment and 2.93 million collected by citizens' groups, totalling 9.78 million tonnes or 20.3% of Japan's MSW.
Not content with the 34 trash categories it defined four years ago as part of a major push to reduce waste, Kamikatsu has gradually raised the number to 44.
http://www.worldbank.org/urban/solid_wm/erm/CWG%20folder/uwp1.pdf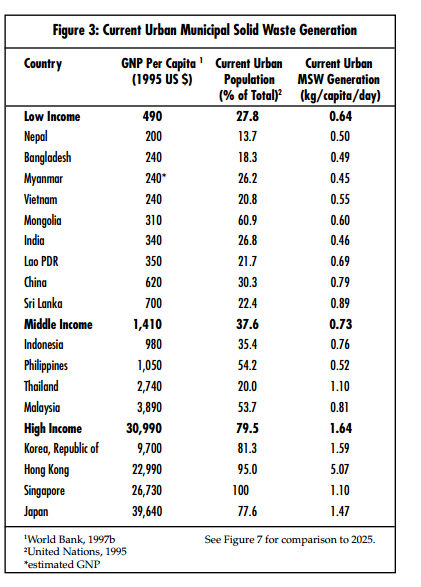 6. Describe any major issues with waste disposal (disasters, political issues etc).
Japanese 2011 earthquake produced 23 million tons of debris
Enacted Special Measures Act on Disaster Waste Management: New act that facilitates that cleaning up of disaster debris
http://www.loc.gov/law/foreign-news/article/japan-legal-responses-to-disaster-waste-management-issues/