Describe the average daily nutrient intake for the citizens of your country. Are there common issues of malnourishment or nutrient deficiencies? What about problems of over nourishment?


Figure: Average Daily Calorie Intake of a Japanese Person by Year (unit : kcal)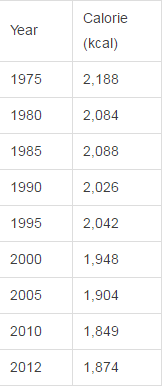 http://www.who.int/countries/jpn/en/
http://nbakki.hatenablog.com/entry/2014/10/15/123624
http://www.unicef.org/infobycountry/japan_statistics.html
Describe (with images) the local specialties and typical cuisine.
Seafood is typically the most dominant component of diets
Mountain vegetables are also common, either pickled or cooked in broth
Rice and soup (ex. miso soup) very common, many dishes are seasonal
Explain where most of the food comes from (grown, imported etc.) and describe the typical farming practices. What are the major agricultural products exports and imports?
Food sources: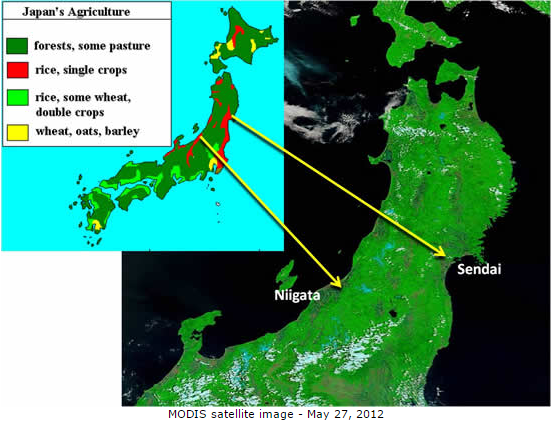 "Rice is by far the most important crop in Japan and planted on the best agricultural land. Other crops grown in Japan include soybeans, wheat, barley, and a large variety of fruit and vegetables."
"Farmland is scarce in Japan (only 12 percent of total area), and heroic efforts have been taken to expand and improve crop acreage in general and paddy land in particular. An example of this is the Kamedegou land improvement district (Niigata prefecture) which was established in 1951 to bring valuable but swampy cropland into production. There are major efforts underway near Sendai to repair the land and farming infrastructure damaged by the tsunami/radiation leaks following the "Great East Japan Earthquake" on March 11, 2011."
"Despite being a highly industrialized country, the presence of agricultural land use is a common feature on the urban landscape of cities across the nation. It might come as a surprise that almost one-third of all agricultural output in the country is, in fact, generated by urban agriculture. Likewise, urban farmers account for 25% of farming households in Japan."
"Furthermore, Japanese urban agriculture is more productive than its rural counterparts. According to 2010 data from the Ministry of Agriculture, Forestry and Fisheries (MAFF), urban fields are the most productive kind of agriculture in terms of economic value of production per area — 3% more productive than the national average. In terms of revenue per farmer, urban agriculture is two times more profitable than inter-mountainous agriculture and around 10% more so than agriculture in rural plain areas. Even in Tokyo, one of the largest and most congested cities in the world, among the intricate networks of railways, roads, buildings and power wires, local agriculture produces enough vegetables to potentially feed almost 700,000 city dwellers."
"Agriculture, forestry, and fishing dominated the Japanese economy until the 1940s, but thereafter declined into relative unimportance. In the late 19th century (Meiji period), these sectors had accounted for more than 80% of employment. Employment in agriculture declined in the prewar period, but the sector was still the largest employer (about 50% of the work force) by the end of World War II. It was further declined to 23.5% in 1965, 11.9% in 1977, and to 7.2% in 1988. The importance of agriculture in the national economy later continued its rapid decline, with the share of net agricultural production in GNP finally reduced between 1975 and 1989 from 4.1% to 3% In the late 1980s, 85.5% of Japan's farmers were also engaged in occupations outside of farming, and most of these part-time farmers earned most of their income from nonfarming activities."
"23% of the average Japanese person's protein intake comes from the ocean, almost 3 times that of the average American. As a nation, Japan consumes 7.5 million tons of seafood annually (Balfour et. al 2011). Tokyo is home to the world's largest fish market, where roughly 2300 tons of seafood is sold daily for an average profit of $15.5 million. The largest marine fisheries in Japan are tuna, bonito, sardines, Alaskan Pollock, crabs and squid (Statistical Handbook of Japan 2012)."
"As of 2009, 42 of Japan's 84 fish stocks were categorized as low by the country's Ministry of Fishing, Forestry and Agriculture."
"According to MAFF, approximately 23,600 hectares of arable land were damaged by the tsunami, including slightly more than 20,000 hectares of rice paddy. In the Sendai area, a majority of the damaged cropland is expected to be back in production within 3 years. However, there is no timetable for recovery of the farmland near the Fukushima nuclear power plant that was contaminated by radiation. The government has set precise testing requirements and radiation standards that must be met before farm production from the contaminated areas will be allowed on the market. Clean-up is proceeding very slowly and thousands of hectares of cropland is still off-limits to farmers. Government officials have stated that some land may need to be quarantined for 30 years or longer."
http://www.pecad.fas.usda.gov/highlights/2012/08/Japantrip/
http://unu.edu/publications/articles/japan-s-urban-agriculture-what-does-the-future-hold.html (Urban Agriculture)
https://en.wikipedia.org/wiki/Agriculture,_forestry,_and_fishing_in_Japan
http://www.nationsencyclopedia.com/Asia-and-Oceania/Japan-AGRICULTURE.html
http://blogs.scientificamerican.com/expeditions/challenges-facing-japans-marine-fisheries/
http://www.pecad.fas.usda.gov/highlights/2012/08/Japantrip/
Major Imports and Exports: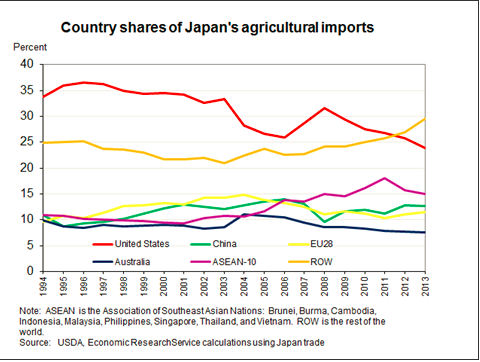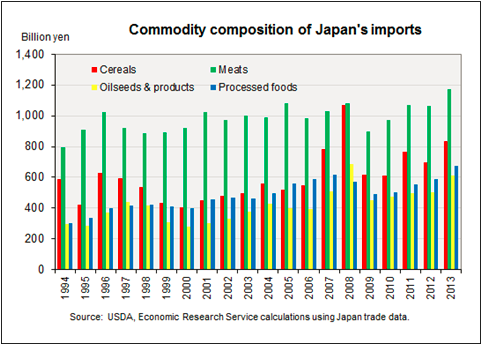 "Japan had much higher food self-sufficiency in the past. The figure stood at 79 percent in 1960.Experts cite many factors that have contributed to the decline. One common explanation is the radical changes in the eating habits of Japanese and in the food industry after World War II.

Shinichi Shogenji, dean of the University of Tokyo's graduate school of agricultural and life sciences in the agriculture faculty, said Japan's dietary habits have seen dramatic changes in the postwar decades. Meat consumption increased roughly nine-fold between 1955 and 2005 and consumption of oil rose about five-fold over those five decades, he pointed out.

Shogenji cited the shift in the last several decades toward more Western-style food. Until just after the war, Japanese mainly ate rice, some fish, vegetables and miso soup. But as their income increased during the rapid postwar economic growth, a great variety of Western food became available for average consumers, he said.

These changes, he said, substantially lowered the nation's food self-sufficiency because it reduced rice consumption."
http://www.ers.usda.gov/topics/international-markets-trade/countries-regions/japan/trade.aspx
http://www.japantimes.co.jp/news/2008/02/26/reference/japan-needs-imports-to-keep-itself-fed/
What is the status of the soil? What fraction of the land is arable? What fraction is actually farmed? How much of the soil is degraded? What land use practices are causing soil degradation? What practices are in use to prevent degradation?

Other information is difficult to find; however, much of the agriculture is done in Urban areas, a method of overcoming soil degradation
http://www.pecad.fas.usda.gov/highlights/2012/08/Japantrip/
https://www.cia.gov/library/publications/the-world-factbook/fields/2097.html
https://www.cia.gov/library/publications/the-world-factbook/geos/ja.html (might help)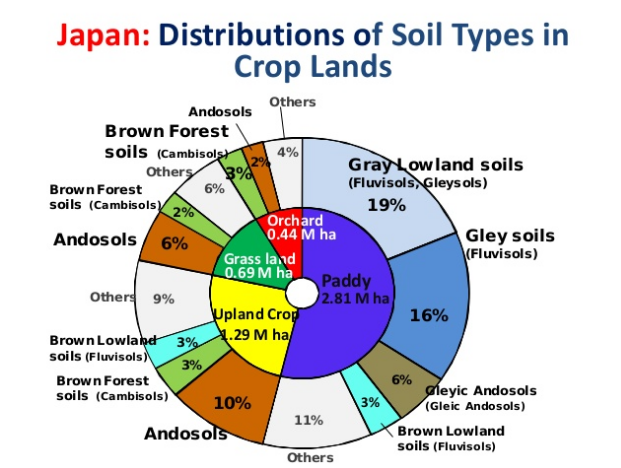 Cadmium poisoning result of soil pollution
"Soil pollution problems started in Japan as contamination of rice paddy fields by such heavy metals as cadmium (Cd), copper (Cu) and arsenic (As) mainly from mining and sweltering activities. Based on the Law enacted for this purpose in 1970, polluted agricultural soils have been remediated since, having achieved considerable clean-up works and other countermeasures."
"On the other hand,-contaminated soil problems in areas other than agricultural land use or "urban" soil problems as they are called in Japan, have been recognized rather recently. Policies and measures taken to cope with these issues by the National as well as local governments for the past decade or so have been numerous, but of rather immediate or provisional nature. In this paper, they shall be detailed and critically reviewed."
"As the environmental quality standards for soil protection were set in 1991 for the first time in 20 years since the Government decided to do so in late 1970 in "The Basic Law for Environmental Pollution Control (1967)", Japan's present and future prospects in soil protection policies and legislative action will also be discussed."
http://www.slideshare.net/FAOoftheUN/status-and-priorities-of-soil-management-in-japan-kazuyuki-yagi
https://books.google.com/books?id=oLNtgk_VKXsC&pg=PA115&lpg=PA115&dq=soil+status+japan&source=bl&ots=qIFmy6imgX&sig=p_xIKwkCCn6jL_eEv13Fe0zGi0c&hl=en&sa=X&ved=0ahUKEwjRxPCSmrnKAhVKE5AKHTY-D9kQ6AEISzAG#v=onepage&q=soil%20status%20japan&f=false
http://link.springer.com/chapter/10.1007%2F978-94-011-2018-0_1#page-2
http://www.sciencedirect.com/science/article/pii/S0925857405000236
https://books.google.com/books?id=avlNBgAAQBAJ&pg=PA71&lpg=PA71&dq=farming+practices+degradation+japan&source=bl&ots=MurZx8qg9I&sig=BU3P7EaWv4hKl-kdwwB6p2gnZzk&hl=en&sa=X&ved=0ahUKEwi7vbKenLnKAhXLWT4KHZKoCjUQ6AEILTAC#v=onepage&q=farming%20practices%20degradation%20japan&f=false
Explain the country's approach and policies to forests and forestry.
Ministry of Agriculture, Forestry, and Fisheries
Primary function of the ministry is to set quality standards for food products, supervise markets and food sales, and to undertake land reclamation
Many saved forests as a result
Describe the nature of communities (urban/suburban/rural), and the methods of transport used to move people and material.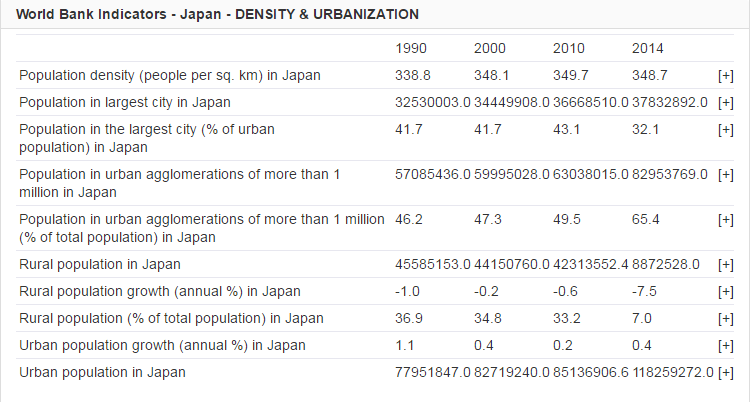 Cities: Buses, subways, taxis, cars, etc
Bullet train
Rail transport is extremely popular method of transportation in suburban and rural areas when commuting
What are the policies toward national parks, conserved land etc?
Preservation of national parks ("national treasures")
Landscape and biodiversity protection
Full outline of plans: https://www.env.go.jp/en/nature/nps/park/index.html
Describe the state of mining and the raw materials produced.
Japan has few raw materials: does not have oil, coal, iron, copper, aluminum, and wood
Japan barely mines if at all because Japan has few natural resources. Thus, there is little incentive and interest. There is also a high cost