How has your nation's population changed over time?
How are people in your nation distributed…and what is the reason for the distribution?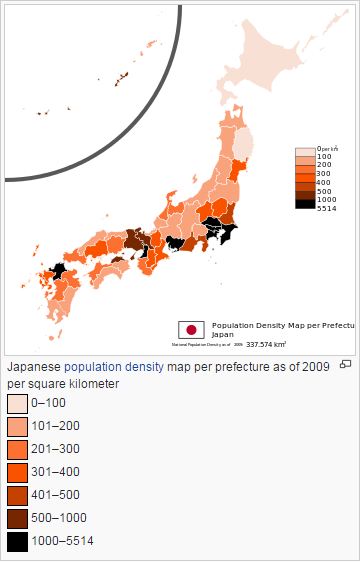 "Between 1955 and 1989, land prices in the six largest cities increased 15,000% (+12% a year). Urban land prices generally increased 40% from 1980 to 1987; in the six largest cities, the price of land doubled over that period. For many families, this trend put housing in central cities out of reach."
"The result was lengthy commutes for many workers in the big cities, especially in Tokyo area where daily commutes of two hours each way are common. In 1991, as the bubble economy started to collapse, land prices began a steep decline, and within a few years fell 60% below their peak. After a decade of declining land prices, residents began moving back into central city areas (especially Tokyo's 23 wards), as evidenced by 2005 census figures. Despite nearly 70% of Japan being covered by forests,

 

parks in many major cities—especially Tokyo and Osaka—are smaller and scarcer than in major West European or North American cities. As of 2014, parkland per inhabitant in Tokyo is 5.78 square meters, which is roughly half of the 11.5 square meters of Madrid.

"
What is the fertility rate, birth rate, death rate, growth rate and doubling time?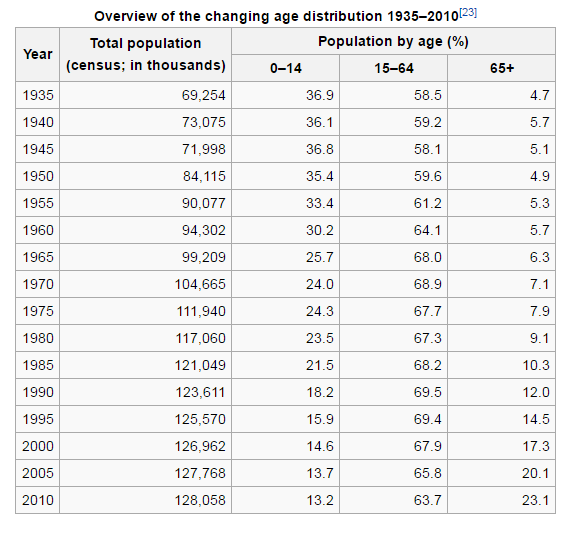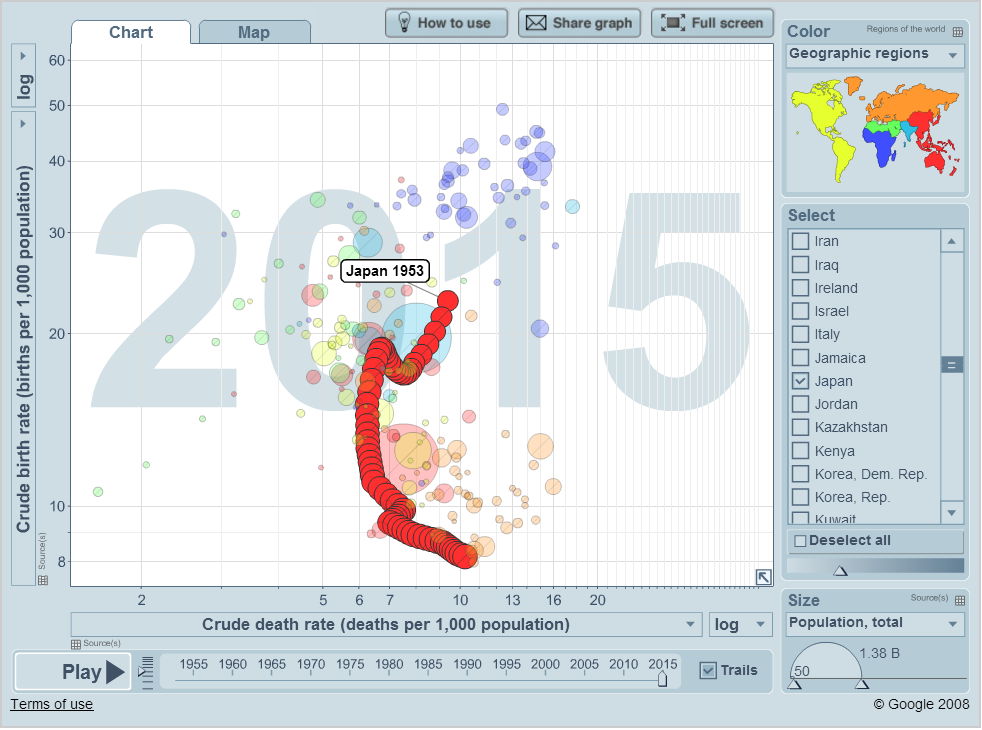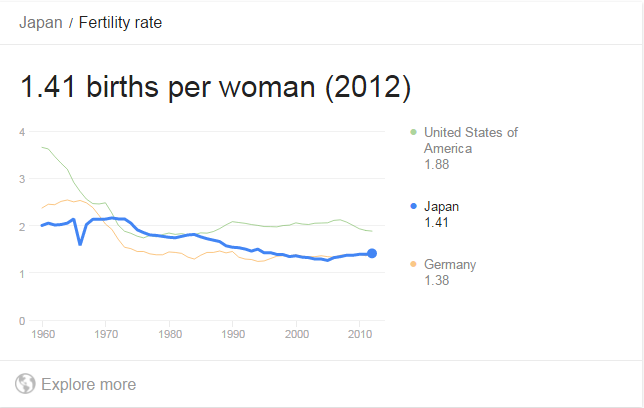 https://en.wikipedia.org/wiki/Aging_of_Japan
https://en.wikipedia.org/wiki/Demographics_of_Japan#Aging_of_Japan
https://www.cia.gov/library/publications/the-world-factbook/geos/ja.html
https://www.google.com/webhp?sourceid=chrome-instant&ion=1&espv=2&ie=UTF-8#q=japan%20fertility%20rate
https://www.google.com/webhp?sourceid=chrome-instant&ion=1&espv=2&ie=UTF-8#newwindow=1&q=japan+growth+rate+population
http://qz.com/162788/japan-is-rapidly-losing-population-and-half-the-world-is-about-to-join-it/
http://data.worldbank.org/indicator/SP.POP.GROW
http://www.nippon.com/en/features/h00057/
http://overpopulation.org/pop_dbl.html
Where is your country in its demographic transition?
It is in its late stages, even going as far as having population decline
http://japandemographics.weebly.com/demographic-characteristics.html
https://zgeography.wordpress.com/2013/02/06/stage-5-demographic-transition-model-japans-exit-to-the-left/
In terms of your nation's population, are its current growth and size sustainable?
"Today we have 2.57 workers supporting each senior citizen. But in 2060, the ratio will be just 1.19 workers per senior. This will put a huge burden on the younger generation. Compare the ageing ratios of different countries. Italy, Sweden, Spain, Germany, France, the UK, the United States and many developing nations are heading toward populations with 25 or 30 percent being over 65. But Japan is far ahead of the world."
"And now people are talking about how to keep the pension system alive, because it is projected that if we cannot grow our economy, pension payments for the elderly will have to be reduced by 20 or 40 percent. This all gives the government and economists an excuse to try and grow our economy. But because of population decline, more than 60 percent of Japanese land will be unpopulated by 2050. So national land security is another issue."
http://ourworld.unu.edu/en/toward-a-sustainable-japan-challenges-and-changes-in-society-and-population
http://www.sciencedirect.com/science/article/pii/S0922142502000178
What are some strategies they have implemented to make their population sustainable?
"As part of his attempts to revitalize the economy and boost GDP growth rates, Japanese Prime Minister Shinzo Abe announced the third plank of his economic reform agenda – dubbed "Abenomics" – on Tuesday, June 24."
"The so-called "third arrow" aims to tackle structural challenges facing the world's third largest economy such as the country's ageing population. It also foresees measures to cut the corporate tax rate from its present level of 36 percent to less than 30 percent, increase the proportion of women in the workforce by expanding inexpensive day-care centers for children, and reform the nation's corporate governance laws, among others."
http://www.nippon.com/en/features/h00057/
http://www.dw.com/en/abes-reforms-to-tackle-japans-ageing-population-issue/a-17736639
http://www.forbes.com/sites/nathanlewis/2014/09/11/japans-graying-population-needs-new-solutions-not-old-failures/#2715e4857a0b6d1c2ccd340a
http://www.economist.com/blogs/banyan/2014/03/japans-demography